I've mentioned it before so I won't explain it again: NaNoWriMo is here, beginning next Monday, November 1st.

Do you dare write a novel in 30 days? It's worth trying!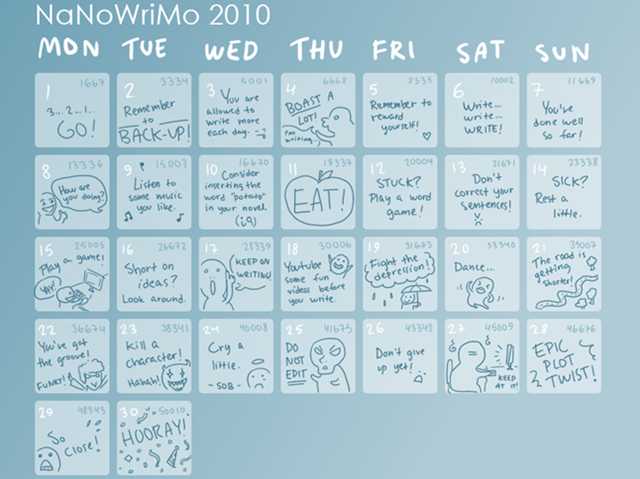 I'm not doing it this year because I'm busy with several projects, one of which is, precisely, revising mi nanowrimo 2006 for publication, because -yes- the thing I poured in a rush, after long revisions, seems ready for publication. I hope. At most, I may try to write the second season of Mrs. Carrington in a month. That would be a challenge too.
but don't let my stories distract you, focus on your own story. Improvise. Unplug the router. Turn off the TV. Those episodes of Glee and Fringe will still be there in four weeks, there's no hurry. A sandwich will do. Type.
You're not alone, the whole NaNoWriMo community is feeling the same and they are more then a hundred thousand people. One made the NaNoWriMo report card to help you visualize where you are and how much there's left. Others draw funny calendars. Some buy AlphaSmarts to write anywhere, even I am considering getting one – donations accepted. It doesn't matter how, it doesn't matter what – the question is how much. Come on, you've been reading stuff like this for years now, write the damn novel once and for all.