Roles:
– direction assistant
– character Hombre Trajeado (Man in Suit)
– soundtrack & title theme "Killer Eyelashes" with Teatro Fantasma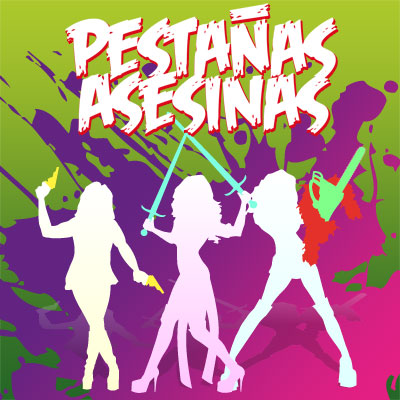 Description: short film/fake trailer directed by Fidel Martínez
Premiere: January 2008
Synopsis: A Martian micro-organism has plagued the cosmetics of the world. Three transvestites fight to save the Earth from a hord of blood-thirsty zombies in make-up.
Soundtrack
I worked with Fidel Lorite on one theme of the soundtrack: the death scene.
Death of Lady Sperm
My band Teatro Fantasma wrote the main theme, "Pestañas Asesinas". You'll find more information, lyrics and several versions here.
Pestañas asesinas
You may also download the full soundtrack: 10 tracks compressed in a zip file.
The Short Film
Cast
Narrator: Ricardo Romero
Tóxica Marvel: Marvel
Tormenta García: Tormenta García
Fuzzy Pussy: Margot
Suit: Álex Hernández
Scientists: Chema Moreno & Elidia Villar
Zombies: Alicia Rodríguez, Álvaro Maldonado, Antonio "Beeton", Benjamín Romero, Carlos Coto, Cristian Puerta, Daniel Barreto, Elidia Villar, Fran Robles, Gabriel Guerrero, Germán Peris, Ion Gardeta, Juanjo Martínez, Lorena Guerrero, Luci, Marcos García, María Gay, María Herruzo, Mika, Tomás Herráiz, Victor Castillo
Stunts: Santi Dominguez, Alberto Jiménez, Juan Manuel Sánchez, José Caba
Leiutenant Lady Sperm: Sandra Sobrino
Major Tit: Mónica Nadal
L.A.C.A. soldiers: Lorena Guerrero & Concha Chaus
Crew
Direction, Production & Script: Fidel Lorite
Direction Assistant: Álex Hernández
Production Assistants: Marcos García, Tomás Herráiz, Álvaro Maldonado
Main Photography: Antonio Casas
Lighting: Barón Dandy & Antonio Casas
Camera Operator: Barón Dandy
Editing & Post-Production: Fidel Lorite
Special FX: Fidel Lorite & Sandra Sobrino
Original Soundtrack: Teatro Fantasma, Fidel Lorite, Álex Hernández
Translation & Subtitling: Carmen Alcaide & Elidia Villar
Thanks: Manjar Producciones, Fondo Reservado, Hotel Andalucía Center, Miguel Quirós
Technical Details
Original Title: Pestañas Asesinas
Length: 7'22″
Format: HDV (HDV 1080i50)
Sound: Stereo Hi-Fi
Production Company: FreakMeOut Films
Budget: 0 €
Nationality: Española
Shot in Granada, Spain on September 17th, 22nd and 24th, 2007
Post-production from October 2007 to January 2008

Making-Up
Don't miss out on the making-up, the video with all the out-takes and bloopers: