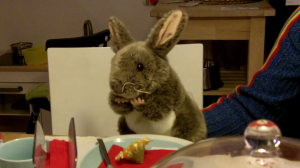 Description
Music clip for "I am not a robot" by Marina and the Diamonds.
Conceived for a "Robot Re-Make Competition" on YouTube.
Synopsis
Toby and Muriel are in love, but she is just trouble. Toby has prepared a video to tell her how he feels.
Roles
Concept, direction, editing.
Soundtrack
Song written by Marina Diamandis.
Performed by Marina and the Diamonds.
Released on the EP "The Crown Jewels", the album "The Family Jewels" and as a single on various formats.
The video
Liked it? Access the competition site or the video's page to "Like" it and leave your opinion.
Special thanks
To Günther P. and Sarah Nist for their love and (camera) support.
Crew
Written and directed: Álex Hernández-Puertas
Camera assistants: Günther P. y Sarah Nist
Technical details
Original title: I am not a robot
Length: 3′40"
Original format: HD 1080p30
Sound: Stereo
Camera: Kodak Zi8
Nationality: Spain/Germany
Shot February-April 2010
Premiered on Youtube on May 2nd, 2010
Locations
Frankfurt: private home, Ikea, MyZeil shopping centre, Carlbusch circus, light sculpture "Puls der Stadt" by Stefan Walz and BlueMars for Luminale at Börsenplatz, Dippmess fairground, Saturn shop, pillow-fight flashmob at Hauptwache on April 17th, Holzhausenpark, Main river and Frankfurt-Limburg road
Gießen: Mathematikum
Cologne: Ludwig Museum's terrace at Frankenplatz
Plane footage: Aer Lingus flights Frankfurt-Dublin (night) and Dublin-Frankfurt (day)