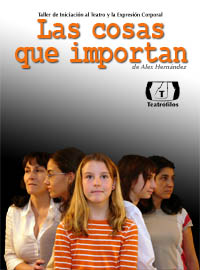 Synopsis
We're never content with what we have. As kids, we play at being adults, and we can't wait to grow up and take control of our lives. But when responsibilities come and our expectations are not fulfilled, we wish we could forget about complications and be children again.
Vicky, Nerea and Coco are sick of being small, and amid jokes and laughter they complain about the adults, and share their hopes and dreams for the future.
After years without seeing each other, Nerea and Vicky meet again at Coco's funeral. They wish they had learned in time which are the things that matter.
Production details
The things that matter was the end-of-course production for the 2004-2005 Theatre Workshop of the town of Cenes de la Vega (Granada). It premiered on June 13th, 2005.
Cristina Moller Molina ……………. Coco
Serena Navarro Foronda ………… Nerea
Sara López Mazuela ……………… Vicky
Toñi Martín Alvarez …………. adult Nerea
Isa Várez Alvarez …………… adult Vicky
also featuring Chema Moreno Martín
Written and directed by Alex Hernández