Although I work with words better than with pictures, here's a small selection of my adventures into the graphic world.
Lost. Execute.
Spanish TV channel Cuatro has invited LOST fans to create posters for 6th season of the show, using exclusively their own graphic material. I came up with the image you can see here. The text reads: "LOST. SEASON 6. EXECUTE."
For a few days, the poster presided the selection of favourites published on the website. A wider selection was also published on EP3, the cultural suplement of the national newspaper El País.
GR-Flickr-08.
Between October 1st-15th, 2008, exhibition centre Rey Chico in Granada was home to GR-Fickr-08. The event gathered a selection of around a hundred photographs by the Flickr community in the province of Granada. Among them were my two selections, simply titled "Moonset" and "Ghostly morning". You can click on them for a much larger size.
The exhibition was on the news on the main local media (Granada Digital, Granada Hoy, Ideal Digital and Radio Granada).
Canary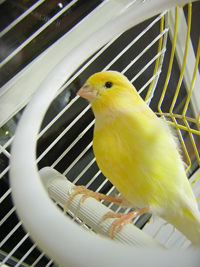 As a curiosity, this cute photograph of my nieces' canary was selected by an online magazine as the cover for one of their electronic publications. Unfortunately I do not have the exact details, so I would be thankful to anyone who can provide more information.