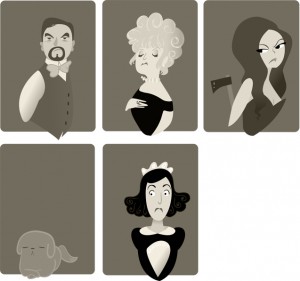 Mrs. Carrington reaches the end of its first season. Episode 12 premieres today… in 2 parts!
Its title is "The Storm" and the second part will premiere tomorrow.
Don't miss the fantastic cartoon illustrations that Clara Soriano has made for our characters.
Fuffy is missing, Paolo abandons the scene but not without saying his farewell, Chumina and Leona go on at each other's throats, and Richard returns from his encounter with Martin… or is it the other way round?
You can watch part 1 here.